Downloads
Need information fast? We've got it covered with handy applications that can be downloaded straight to your smartphone. Check out our downloads page now for the latest electrical apps.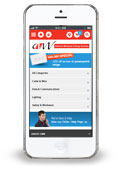 CNW Mobile
Have an Iphone or Android Phone? Save the CNW mobile site to your phone's homescreen. Just hit the action button in your browser and hit the 'Add to Home Screen'. It's as simple as that.
Industry Tools

Poweredge
Want to access and share the latest product information faster than ever before? Designed to provide mobile access to Eaton's electrical power management solutions, PowerEdge is now accessible on your iPhone or iPad.
Download
Iphone

Energy Calculator
Interested in energy usage and potential cost savings? The Pierlite Energy Calculator has been designed to give you a basic guide to the energy performance and lifetime operating costs of selected Pierlite products, assuming generic design and operating parameters. This trusty app is sure to be indispensible to your sales toolkit!
Download
Iphone
Blacknberry